Hallo. Ich möchte euch einen Patch für Fussball Manager vorstellen, der "Season 2020 Patch" heißt.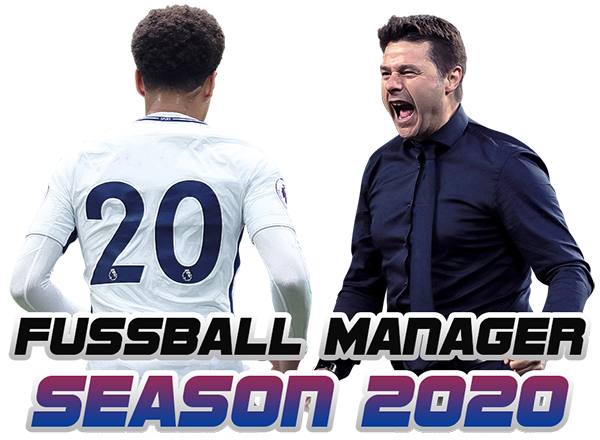 Ein Patch, der deinen Fussball Manager auf die Saison 2019/2020 aktualisiert. Das Update enthält sowohl die aktuelle Datenbank (die größte, die jemals für Fussball Manager erstellt wurde) als auch ein riesiges Grafikpaket - Logos von Vereinen und Wettbewerben, Fotos von Städten und Stadien sowie mehr als 100'000 Porträts von Spielern und Mitarbeitern.

Ligaliste: Link

Version Season2020 1.2

How to install?
How to download and install Season 2020 1.2


Ein Patch muss auf einer Neuinstallation von Fussball Manager 13 (RLD-Version oder Origin-Version) oder Fussball Manager 14 (Origin-Version) installiert werden.

* Nur wenn Sie den Patch zum ersten Mal installieren. Wenn Sie bereits einen Fussball Manager mit installiertem Patch für die Saison 2019 haben, können Sie neue Versionen darüber installieren.


FAQ 2.2
F: Kann ich Patch auf Fussball Manager 14 (oder einer anderen Fussball Manager-Version) installieren?


A: Sie können diesen Patch auf den Versionen Fussball Manager 13 und Fussball Manager 14 installieren.


Beachten Sie jedoch, dass sowohl die Versionen von Fussball Manager 13 als auch von Fussball Manager 14 verwendet werden


Ordner "Fussball Manager 13" im Ordner "Dokumente" für Benutzerdateien.





F: Kann ich Patch über einen anderen Patch installieren?


A: Nein. Der Patch muss auf einer sauberen Spielversion installiert sein.





F: Kann ich Patch über frühere Patch-Versionen (z. B. Saison 2019) installieren?


A: Ja.





F: Kann ich das auf Deutsch installieren (Französisch, Italienisch, Spanisch, Polnisch usw.) Fussball Manager Version?


A: Ja. Bezüglich der Lokalisierung gibt es keine Einschränkungen.





F: Mein Spiel startet nach der Installation nicht mehr. Was kann ich machen?


A: Probieren Sie diese Lösungen (separat) aus:


1. Benennen Sie "Manager.exe" in "Manager..exe" um


2. Benennen Sie "d3d9.dll" in "winmm.dll" um


3. Versuchen Sie, die ausführbaren Eigenschaften (Manager13 oder Manager14) zu ändern, um sie auszuführen Windows 7-Modus





F: Mein Spiel stürzt ab, nachdem ich spielbare Ligen ausgewählt habe. Was kann ich machen?


A: Überprüfe, ob du die Datei "locale.ini" im Spielordner hast. Wenn es nicht da ist, finde


es im "locale" Ordner und kopiere es in den Spielordner.





F: Ich sehe einen Fehler im Hauptmenü, der besagt, dass der ASI Loader nicht gestartet wurde. Was kann ich machen?


A: Versuchen Sie "d3d9.dll" in "winmm.dll" umzubenennen





F: Wie kann ich meine eigenen Spielergesichter, Vereinslogos und andere Grafiken hinzufügen?


A: Sie können sie auf übliche Weise hinzufügen, indem Sie die Dateien in den entsprechenden Ordner im Ordner einfügen


Ordner "Dokumente".


Darüber hinaus ist es möglich, neue Porträts und Abzeichen mit dem neuen zu installieren


Drag & Drop-Funktion (verfügbar im neuen Fenstermodus). Dazu benötigen Sie


zuerst, um den Fenstermodus zu aktivieren (finden Sie in den Spieloptionen im Hauptmenü


Spielemenü), öffne dann die Spieler (Mitarbeiter / Manager) -Seite und ziehe deine Bilddatei


zum Spielfenster. Gleiches gilt für Vereins- und Ligenabzeichen.





F: Wie aktualisiere ich Kits für diesen Patch?


A: Lies dies:


https://fifam.miraheze.org/wiki/Updating_kits_for_Universal_Converter_Patch





F: Wie schreibe ich benutzerdefinierte Datenbankskripte?


A: Sie müssen den ScriptStudio-Editor herunterladen und damit benutzerdefinierte Skripte erstellen. Dann Sie


kann sie aus dem Editor-Hauptmenü laden (Assistent> ScriptStudio> Importieren)


Weitere Informationen zu UCP-Skripten finden Sie hier:


dies: https://fifam.miraheze.org/wiki/Universal_Converter_Project_Scripting_Syntax
Display More